Introduction
In this post, we will discuss how to Schedule a message on WhatsApp in both android and iPhone mobiles with easy and simple steps. For example, if you're going out on a holiday but have some important time-sensitive messages to send. You can easily schedule WhatsApp messages and go off to the holiday you've been preparing for months/days.
If your job requires you to send messages to your clients on timely support, you can schedule them in the morning and you won't have to look at them again. You can schedule WhatsApp messages on Android and iPhone mobile phones by using third-party apps.
These apps are very easy to use. Once you download the app on your mobile, it will automatically sync with your WhatsApp application. Search the name of the person you require to send scheduled WhatsApp messages and choose the time and date that you want to send a particular message.
How to Schedule message on WhatsApp for Android
If you are searching for an option to schedule WhatsApp messages on Android, you require to look for the right app. With it, you can send messages whenever you want to, even if you are sleeping. 
SKEDit Scheduling 
SKEDit Scheduling is a free message scheduler application, which you can use to schedule messages for 5 different ways like WhatsApp messages, Facebook posts, calls, emails, and SMS messages. If you are a social influencer, you should surely have this app on your mobile phone. It not only protects time but also takes away the tension and makes you more prolific. The automated message technique keeps you directly on track with the tasks you have scheduled to do that appropriate day.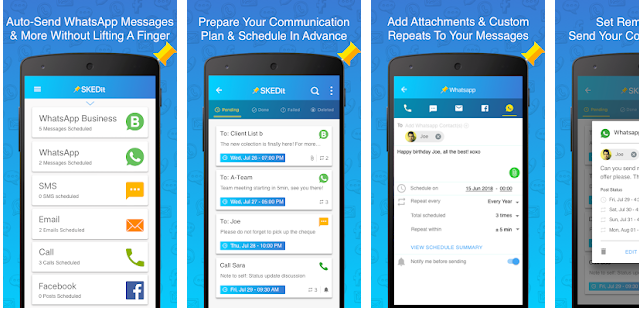 If you are in a place where the internet connection is lost or doesn't work, the message or post will however be sent because it has already been scheduled. Let us discuss in detailed steps on how to schedule WhatsApp messages on the SKEDit application.
Step 1: First you need to install the SKEDit application and sign-up into the application by using your contact details or the One-Touch Facebook register.
Step 2: Now select the communication mode you want to automate the message. In our case, we will select WhatsApp messages.
Step 3: After this, you can select the person to whom you want to send the message. Type the message that you want to schedule and which will be automatically sent to that particular person.
Step 4: Now select the particular time and date for sending the message that you have written. Your job is done and you no need to worry about sending a message. You can simply forget about it and move on to your other works. 
Scheduler for WhatsApp
Scheduler for WhatsApp is another android application that is easy to install and work. Not only scheduling WhatsApp messages, but you can also schedule emails by using this application. This application gives more specialties than the earlier one as you can organize groups and send a scheduled text respectively. After you configure your email ID with the app, It will automatically send emails from that ID without requesting over and over again. You can edit the ID any time as you want
 The app also lets you modify its theme according to your mood. It appears with an extensive in-built FAQ division to help you out whenever a difficulty occurs. You can also contact the app's 24X7 customer care number if this FAQ doesn't help. Let's get a look at how to manage Scheduler for WhatsApp application.
Step 1: Firstly, you need to download and install the Scheduler for WhatsApp application in your Android mobile phone.
Step 2: Once downloaded Sign up with your required details and enable Accessibility feature that will mainly help to run this application in a smooth way.
Step 3: Now select on WhatsApp and click + symbol.
Step 4: Select the time and person to whom you need to send schedule WhatsApp message. Type the message you want to send to any person as for the given schedule. Once the message is scheduled, you'll be able to see it every time you open the app on your mobile phone.
GB WhatsApp
One of the best apps you'll ever find for scheduling WhatsApp messages on Android phones, GB Whatsapp is completely free and gives a lot of features to make your experience a comfortable one. After you download the GB WhatsApp app, you don't require to root it. Rooting is not safe because it can damage your phone's basic functioning and provide it inefficient. 
All bugs that WhatsApp starts at us while sending videos to leave with this extraordinary app. Not only can hide your last seen but also cover experienced tick, and typing a message sign. You can write status of up to 255 characters rather than 139 characters as permitted by 255 characters. Here's the process with detailed steps on how you can use GB WhatsApp to schedule messages.
Step 1: Download the newest version of GB WhatsApp on your android mobile phone.
Step 2: Install it in the same way as to how you install all other apps from Google Play. To find the download app, open file explorer/file manager.
Step 3: Register your details as you do on WhatsApp and start using it.
Step 4: To schedule a message, click on any contact, and type the message that you want to send. Set time and date and you're done.
You can also use below 2 methods to Schedule a message on WhatsApp for iPhone mobiles. Here are two different applications that we especially suggest and how to use them in an easy way.
How to Schedule message on WhatsApp for iPhone
Here is detailed steps regarding you can schedule WhatsApp messages on iPhone. Please follow the below steps and learn how to use them.
Scheduled App 
Scheduled Application can be used to schedule messages and posts on Facebook Messanger, Line, WhatsApp, Twitter, Slack, Telegram, LinkedIn, WeChat, Skype, and iMessage.You can schedule and send messages to many people at once, It is a fabulous app for businessman and social media authorities who need to send consecutive posts and messages to their customers and participants respectively.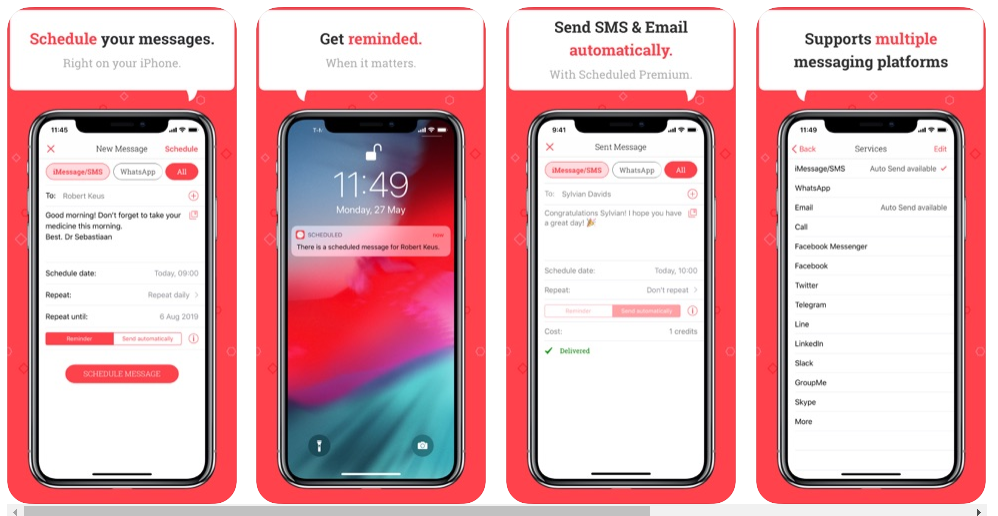 You can compare it with the calendar app of your mobile phone and send scheduled birthday and anniversary wishes and other remainders as the time arrives. Some other specialties given by Scheduled App cover snooze message, skip and remove the message, repeat and delete the message, and archive message. Let's get a glance at how you can schedule WhatsApp messages on iPhone using Schedule Application.    
Step 1: Download and install the Scheduled Application on your iPhone mobile and open. Now click on schedule messages.
Step 2: Select the WhatsApp option and person to whom you want to send the scheduled message.
Step 3: Type the message that you want to send and select a particular time and date. You can also send the message to multiple people at once.
Jailbreak iPhone
This application is moderately easy to use and operates only for WhatsApp. It is an outstanding application if you are searching for a scheduler for your WhatsApp messages rather than any other applications to different messaging and social media applications. Here are the complete steps on how to this application for WhatsApp on iPhone.
Step 1: Later on downloading and installing the app on your mobile. Select the schedule as a message option.
Step 2: Type the message that you want to schedule and select a particular person form your contacts. You can also select multiple contacts at a time.
Step 3: Select a particular time and date that you want to send the scheduled message.
Conclusion
Finally, Tech Naandi Solutions suggests you the best five different applications discussed in this post are simple to use and fairly good for Schedule message on WhatsApp. They are quite different from one another and we purposely picked them because everyone's requirements are different from each other. Our preferred application for Android users was Scheduler for WhatsApp and for iPhone users was Scheduled App. The user – friendly layout and straightforward to operate purposes make scheduling WhatsApp messages so simple. 
Thanks for your support we will provide more tricks & tips for you. If you like our tricks, share these with your friends and join my Telegram Channel for more new tricks & tips.