Introduction
In this post, we will discuss How to share a screen between two android devices with a simple and easy method that will help you easily. Screen Sharing is a method of sharing all the information on your screen with different Android devices. Screen sharing is also described as desktop sharing. It can involve one single window or all the elements on the screen. It grants full control of the visibility of your screen and guarantees secrecy.
With a share screen characteristic, you can simply show content to your clients, friends, or colleagues. The screen sharing will assist you to show documents, presentations, videos, and even images without transferring the files. It also enables the receiver to view the content in real-time, interact, navigate, and make corrections in the files.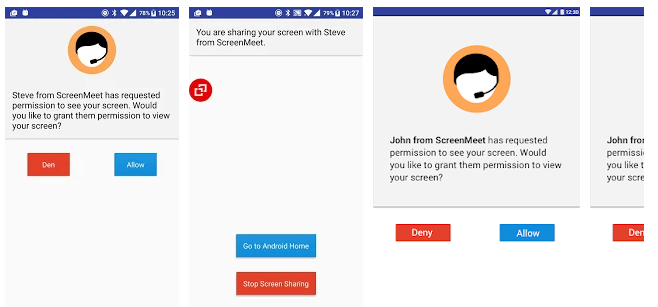 There are several free Android applications on the Google Play Store that can be are used for Screen sharing ideas, but environments these apps are a difficult process. Here, we give the most reliable and secure methods to share the screen between various devices. 
How to use ScreenMeet Mobile Screen
Step 1: Firstly, download the ScreenMeet Mobile Screen Share application and install it on your mobile. This app will grant you to share your screen with different Android devices.  
Step 2: Once the app is opened, you are required to create a new account by using your Google account (Gmail).
Step 3:You will receive a popup message declaring that you get a free trial to connect up to 10 free counts. Later you will have to pay for the app to enjoy free access.
Step 4: In the app, you will get a new link that will help you to share with other Android devices for the screen sharing option.
Step 5: Now click on the start button, a popup message will be displayed, select the start now button. Also, Open the link from any other Android device which you want to access to your screen.
Step 6:  Now, the screen will display all the activities that are operating on in that Android device.
However, this is the most comfortable approach to share the screen between multiple Android smartphones. There are many important advantages to the screen sharing feature. By sharing your PC screen in online meetings will increase collaboration and gives the performance more straightforward for all the members.
There is no requirement to transfer files and bother about compatibility difficulties. he teachers can provide effective and appealing practice sessions.
It also gives real-time conversations and feedback. Sharing and reviewing the data in real-time, saves time, and improves the status output.
Conclusion
Finally, now we know that How to share a screen between two android devices in an easy and simple. We have provided more android tricks on this website, please visit android tricks on my website from the below button. Please feel free to contact us in case if you need any help.
Thanks for your support we will provide more tricks & tips for you. If you like our tricks, share these with your friends and join my Telegram Channel for more new tricks & tips.