Introduction
In this article, I will explain How to remove notifications from chrome by using simple and easy methods that help to block notifications.🥰
In 2021, web browsing is nothing like what it was a decade ago. Now the authors are finding more ways to reach a universal audience. Many users are confused about receiving notifications from websites they ARE visited just once and pop-ups in the Google Chrome browser.
Google Chrome is one of the world's best browser among all the other web browsers with a better browsing experience. 
In this article, I will explain all the possible scenarios explaining why you are getting notifications from Google Chrome and how to reduce it. You can do this for Google Chrome on desktop as well as its mobile apps on Android and iOS.
Why Am I Getting Notifications From Google Chrome
When a user connects a new app on the phone, the app asks for various permissions to work all functionalities properly. We mostly allow permissions the same thing applies to websites.
When you visit any websites available on google, it will generally ask for permission to send notifications and accept cookies and some other permissions on your device. Most of the users will allow those permissions.🙄
How to remove notifications from chrome
There are two methods to disable these notifications on the Google Chrome desktop.
Disable Notifications From the Address Bar
You can easily disable the notification from the address bar by following the simple steps explained in detail below.🥰
Step 1: First open any website and click on the tiny lock icon in the address bar.
Step 2: Here, you can see the Notification menu. Click on it and Block the notifications.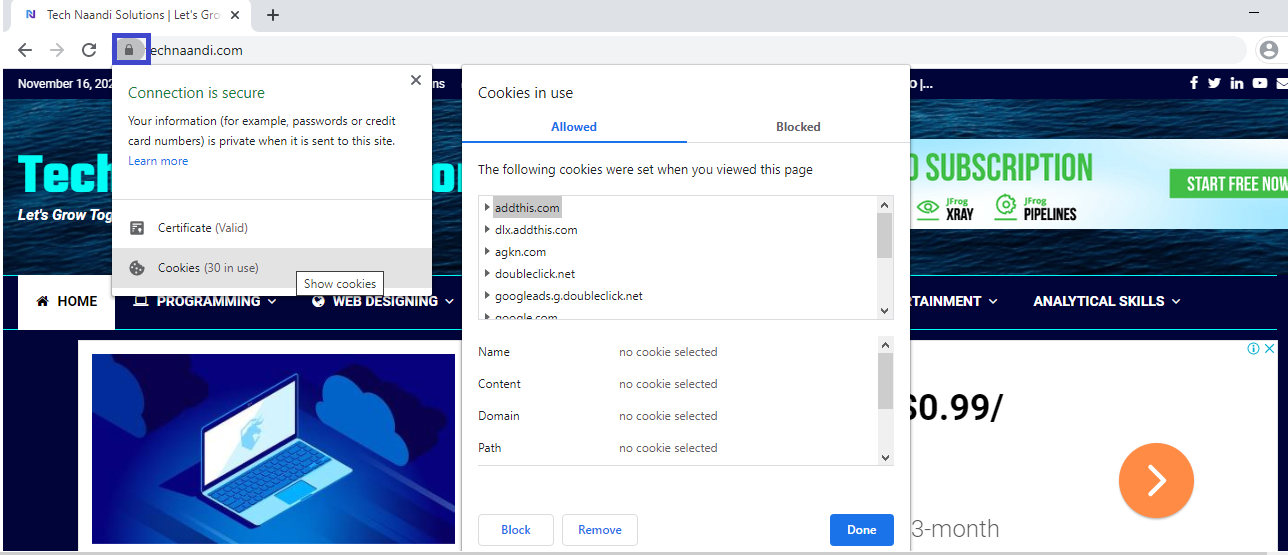 Step 3: If you are not able to see the notification option, then go into Site Settings from the same menu.
Step 4: Now you can go to the site settings menu, scroll down to the notification option, and you can disable notifications for the website.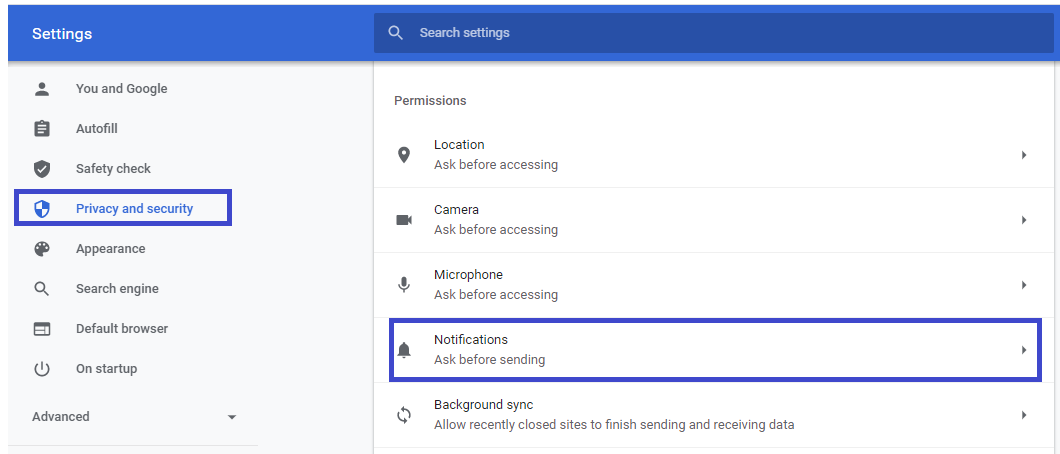 Moreover, you should open all the websites and turn off notifications for a particular website. If you want to block all the notifications at once, then you can use the Google Chrome Settings menu.
Block Notifications From Google Chrome Settings Menu
Step 1: Firstly, open Google Chrome and select 3 dots menu available at the upper right corner and select Settings.
Click Here To Read More Tricks Related To Chrome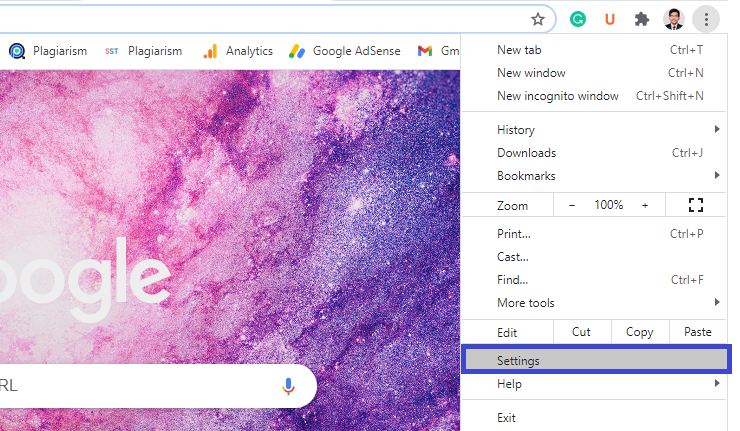 Step 2: Go to Privacy and security and select Permissions –> Notifications from the side menu.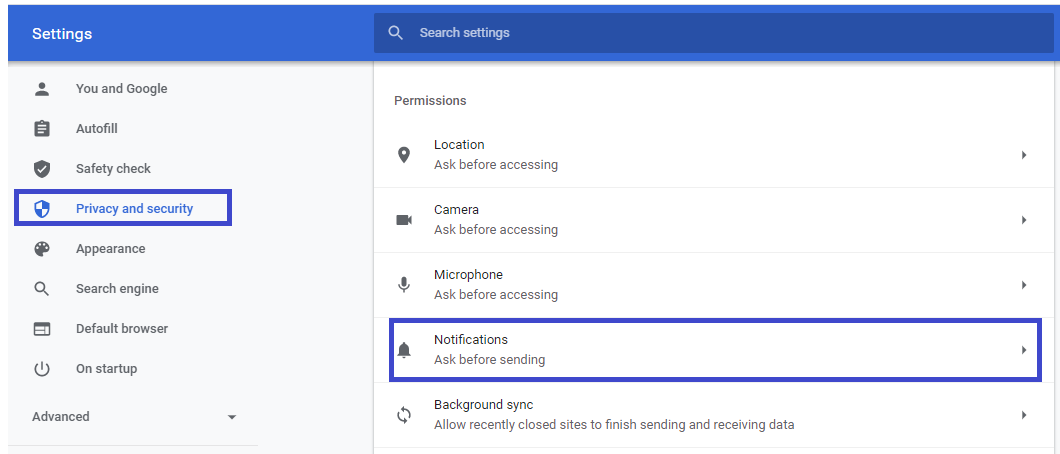 Step 3:  In this menu, you can see the list of websites for which the notifications are blocked. On the same page if you scroll down, and you can see the list of websites with notifications enabled.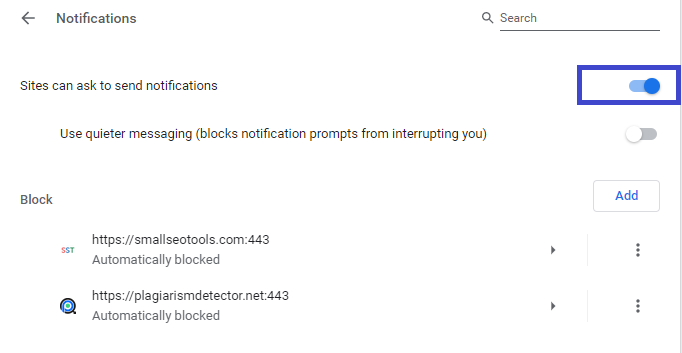 Step 4: Tap on the 3 dot icon and remove them. It will again ask for notification permission when you visit the website. Use the Block option to block such notifications completely.
Block Pop-ups And ReDirects From Websites
However, by default, Google supports Pop-ups and redirects for all websites. The action might make sense for bank websites where they redirect you to the loan details page or reward store. 
You can visit a website and click on the lock icon in the address bar. Select Block from the Pop-ups and redirects option. You can stop these redirect problems from the Google Chrome Settings menu simply by following the steps given below.
1: Firstly, open Google Chrome and select 3 dots menu at the upper right corner and select Settings.
2: Now visit Privacy and security in your browser and simply select Content –> Pop-ups and redirects from the side menu.
3: Turn off the Allow option and add the relevant websites in the below exception menu.
ON ANDROID PHONE
The notification circumstance is still more harmful on Android as notifications from websites can quickly fill up the notification area on the OS. 
Moreover, you might get Content reminder notifications based on your usage. By following the simple steps given below you can disable the Chrome notifications on Android mobiles.
1: Open the Google Chrome browser and click on the 3 dots menu above.
2: Go to Settings –> Notifications and it will open the system notification panel to adjust.
3: However, you can disable Content Suggestion notification by scrolling down to the site notification menu.Where you can see the list of websites sending you notifications.
Conclusion
Above all steps is about How to remove notifications from chrome by using simple and easy methods that help to block notifications for Windows, macOS, and Android.
Thanks for your support we will provide more tricks & tips for you. If you like our tricks, share these with your friends and join my Telegram Channel for more new tricks & tips.