Introduction
In this post, you will learn about the best 5 Smart Content Writing and Editing Tools for Bloggers that will provide you better improvement.
In every field, the competition is becoming more intense with the growth of the online world. Every business is shifting to this market with great speed.
Content is the main key with which you can convince someone with your thoughts and views. With this factor, you can interact with them and get more traffic to sell more.
Therefore, the number of content writers is increasing rapidly as compared to other fields. Becoming a writing expert is not an easy task because it is a special art that requires the user to be more attentive.
Do you want to start content writing?
If you want to be a skillful writer, you must read this article till the end. We will tell you about those essential factors that you have to adopt for extracting better results.
Writing optimized and related content to your topic is not an easy task now. You have to research from the internet that might interact with your thoughts and lead you to the dead-end in your concept.
Your content should be captivating, informational, engaging, and fully optimized for the efficient progress of your efforts.
For this task, you just need to get some tools that will help you in writing tasks. In short, these tools will help you in writing a top-notch document to publish on your platform.
List of tools for writers and bloggers
There is a vast list of tools available for content writing or editing over the internet. We have simplified the list for your convenience and shortened it to only 5 tools that you must have.
Without these tools, you will never be able to rank higher and get more traffic. Let's start reading about them one by one to explore their features and uses.
The first step you should do after research is writing an article, blog, or other documents. Many writers use Microsoft Word to write their documents.
Here is an online notepad that you can use as a replacement for this program. With this editing tool, you can quickly cover various aspects of your work online.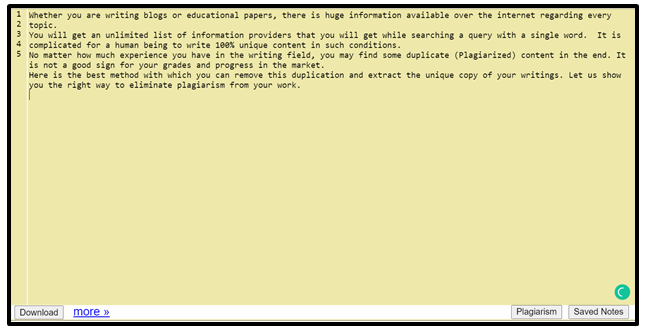 It is the fastest working notepad to type a long document or edit the already written document. You can write a new document with this tool by clicking on "Create New Text Note".
Also, you can upload the file from your device directly by selecting the "Upload file from local device" option. So, you can do editing of the previously written document too with this editor.

You can also save the document or download it for further use. It has some extra features like paraphrasing a document with a single click.
In short, this tool will work as a text editor and lead you to other online tools for making your work optimized.
Summarizing tool is essential for all writing departments without any discrimination. For instance, a student may have to short his long research paper.
He can use this tool to shorten the length of his work without harming the actual meaning. In the same way, a blogger or writer can use this tool to get a summary of various articles.
While writing content, it is common that you have to analyze various articles written by different authors.
It will take much time of yours to read every article and get understanding with them. With this summarizing tool, you can quickly convert all those articles into a short format.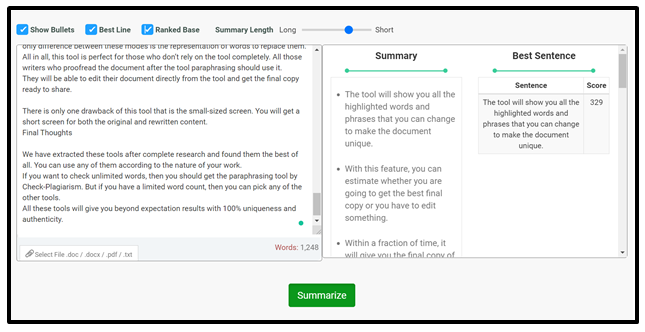 By reading them, you will get an overview of the content and understand the topic thoroughly. In this way, you will do this task shortly and move towards the next step.
Due to its versatile nature, it can be used by anyone who has a concern with the writing field. In addition to simple use, you can utilize various filters to get a perfect summary.
It has multiple checkboxes that you can mark or unmark according to your work nature. You can also adjust the length of the final summary by using the "Summary Length" feature.
In short, this tool will be perfect for your writing tasks without any limit. You can get a quick overview of your concerned document and make it ready to publish within a fraction of time.
3. Grammarly
After writing content, the process to extract errors and mistakes come into the way of a writer. A person can't become proficient in writing to such an extent that he will overcome all the mistakes while writing.
A writer should proofread his document various times to find errors in his work. There are huge chances that you leave some mistakes unintentionally even after proofreading.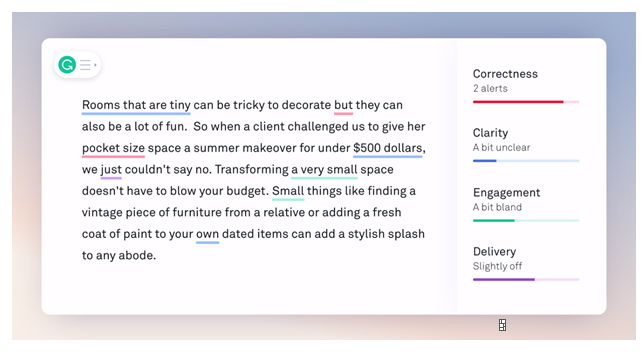 Source: https://www.ahead.ie/Grammarly
You can reduce these chances by using this tool for grammar check. Grammarly is probably the best tool to find mistakes and clear them among all the tools available on the internet.
No doubt, there are various tools available for this task, like Ginger. But this is the best tool to deal with grammatical errors and make your document readable to engage the audience.
In addition to mistakes, it will also show you the overall readability score. So, this tool will be the best to analyze your mistakes and make your work optimized too.
4. Copyscape
Whether you are a student or a professional content writer, you must check duplication in your writings. For a student, it is better to write and submit 100% unique assignments and research papers.
Similarly, it is harmful to a writer or website owner to publish plagiarized (duplicate) content on a website.
Copyscape is one of the best duplication checkers available on the internet. It can check your educational papers, blogs, professional documents, and all others.
You only have to buy its subscription and get to know about duplication before publishing the content. If you want to check the duplication of already published content, you can do it freely.
Just paste your article's URL in the search box and proceed to the next step. If you have a premium subscription, then you can also track your website's content.
With this feature, you can keep an eye on your content, and if someone copies your work, you can deal with him quickly.
Due to comprehensive features, it is considered the best tool to check plagiarism and make the work unique.
If you have found duplication in your work, you don't need to worry. You can remove it manually or by using a tool as well.
To deal with this condition manually requires a lot of expertise and proficiency in the work. It will be better for you if you choose a tool to rephrase the plagiarized content.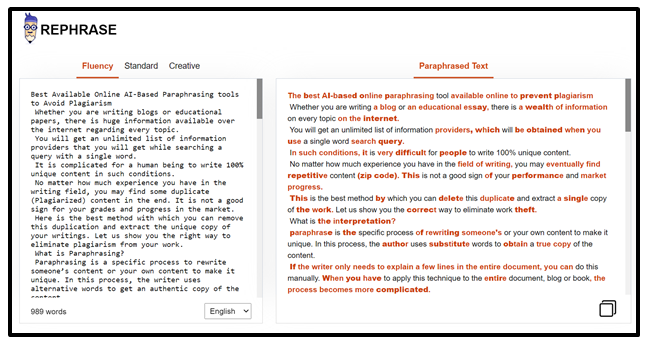 Here is an amazing tool by Rephrase.info that you can use for quick outcomes. The tool will allow you to check 1000 words per check-in all its given modes, i.e., Fluency, Standard, and Creative.
It is an AI-based tool that will understand the actual meaning of the given context. Then, it will paraphrase the content without harming its intentions.
You can also upload a file directly from your device to paraphrase its content. The tool will work perfectly for some lines, paragraphs, or the whole content.
Further, you will get both original and paraphrased text side by side. With this, you can compare both these texts and replace the words that you might feel unfit in the new content.
It is very rare that you have to make changes when you are working with this AI-based tool. But you can proofread the new document to remove any error manually if found.
Conclusion
The above-discussed tools have great importance in the work of a content writer.
Either you are writing a new document or editing the previous one, you should utilize all these tools at specific steps.
Without these tools, you will not be able to provide good quality content. In this way, it will be harmful to your professional or educational career.
Thanks for your support we will provide more tricks & tips for you. If you like our tricks, share these with your friends and join my Telegram Channel for more new tricks & tips.
Also Read Our New Trending Articles >>>>