How to Recover Deleted Photos  On Android Phones
How to Recover Deleted Photos from Android Gallery. Deleting the photos is one of the most commonly used procedures to free up space on your Android mobile.
But what happens when you delete the images that you shouldn't have? Don't worry about that if you need those deleted files.
There are many applications that you retrieve deleted photos from an Android mobile working as a kind of recycling bin.
In addition to recommending the best applications to recover deleted images. In this guide, we will explain to you step by step process to recover photos using one of these apps.
Best apps to recover deleted photos on Android
Photo Recovery
One of the common popular apps to recover deleted photos on Android is Photo Recovery. In a very simple way, this free application scans your phone's storage to find those images that you have deleted. Once discovered, it enables you to easily return them to your gallery.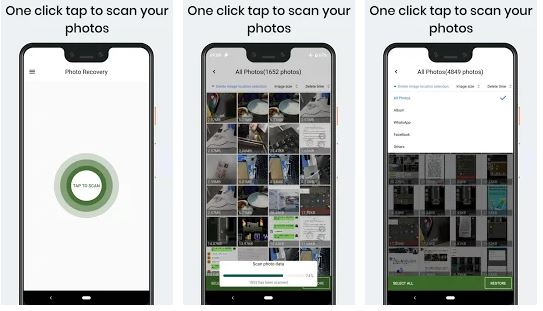 Although the details of the app are somewhat annoying. The truth is that it achieves its function of taking back the photos you have deleted. The earlier you start recovering the photos the more reliable.
Because the operating system can maintain the memory, that these have left with the new elements to optimize the space of the device.
When the more limited time has passed since the removal the easier it will be for apps like photo Recovery to do their work.
Dumpster
The freedom to make mistakes is the slogan of this well -known application. That supports you correct these mistakes by recovering the photos that you have deleted and that you immediately need.
By working as a recycling container for your Android mobile. On the main screen of the application, you can see all the videos and images that are deleted in the past on your mobile.
Application Link: Dumpster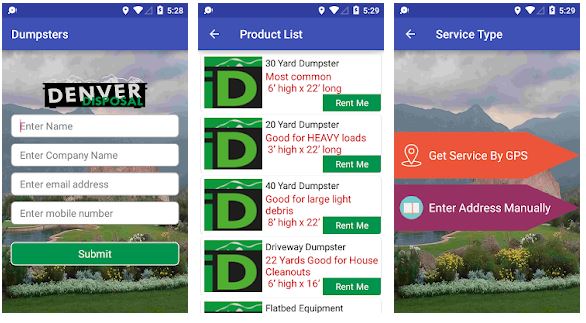 To recover any of those photos you will only have to click on it and select the Restore button. It restores all the deleted photos to its original place on your mobile.
The Dumpster is one of the best application to use wherever you want to recover deleted photos from your mobile.
Price: Free, with a yearly subscription for more functions. 
Disk Digger :
Disk Digger is another application that works deep in your Android mobile to get the deleted photos. It is worth considering that if the phone is not rooted, this app does a limited scan (but useful) looking for the files you need.
Instead, with superuser permissions, the Disk Digger can search the whole memory of the device and therefore do a more complete scan.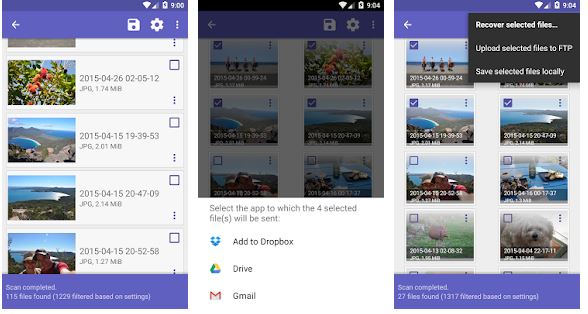 Whether or not you have the rooted mobile This app is postulated as one of the best options that you can find in the Play Store, because it also enables you to save the deleted photos you have restored to Google Drive, Dropbox, or email hence avoiding missing them again. 
Price: Free, with the Pro version. 
Photo Recovery App
Photo Recovery App is the best application for photo recovery available in the play store for free cost. In this post, I will explain step by step process to recover deleted photos from mobile.
It is a simplistic application, with two separate scanning options – Simple and In-Depth between which you can decide depending on your requirements.
Once the search is completed on the screen, you can simply return those photos to your mobile that you have wrongly deleted.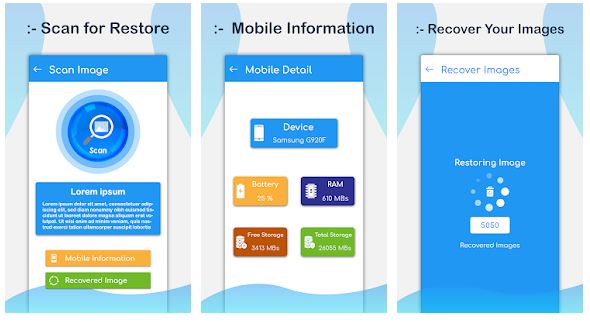 Before delving into the recovery process with Photo Recovery App, we should mention that we have highlighted 4 useful applications to recover deleted images.
But that in the play store there are others that are given to the same purpose. Just take a look at the app store and decide the apps to get the one that best application that suits your cases.
Price: Free of charge no required to pay.
How to recover deleted photos from Android Using Photo Recovery App
Recovering deleted photos by photo Recovery app is an easy and quick job. As we discussed earlier, this tool offers you two different scanning techniques to suit your requirements.
Once the Photo Recovery App is downloaded, follow the below steps to recover and restore deleted images on your mobile.
1. Open the app, grant it the necessary permissions, and click on the button Get started.
2. On the main Photo Recovery screen, click on the "Scan" button to scan photos.
3. Decide between simple scanning, which searches in the most recent deleted files, and in-depth scanning, which offers a more general search. Wait for a few moments while scanning is in progress. 
4. At the end of the search, you can see a gallery with all photos deleted from your Android mobile.
5. Select the image that you want to recover and select the Restore button in the lower-left corner. So that the photo looks in a folder on your phone called Recovered Photos in the file manager.
It's that easy to recover deleted photos on your mobile with Photo Recovery App. First, choose the scan option and wait for the application to search and restore the photo you want to take back.
It should be seen that the work of this type of apps not always necessary particularly when a long time has passed since you deleted the pictures you now need. 
As we have explained before, the operating system is in charge of giving a new case to the memory that the photos have left, so that space may already be filled by new files if it needs a long time to try to recover them.
In our case, we can confirm that the Photo Recovery App fulfills its function, but always you must take into account the detail we discussed.
How to Avoid deleting Photos on your Android mobile
There is a proverb called prevention is better than cure. and we can utilize it perfectly in this case. It is right that retrieving deleted photos from your Android mobile is simple we have to say thanks to those applications we have discussed.
But it is however more helpful if you do not get to lose them even if you make a mistake when deleting them. If creating a backup of your Android looks too much better So that I recommend that you at least take out a backup of your images and videos.
The best application to securely store all the multimedia files on your phone is Google photos, an app that we have previously mentioned to you about all its tricks to get the most out of It.
Once the application is downloaded to your Android, follow below step by step to back up your photos and videos.
Open Google Photos and reach the top menu by sliding to the right of the screen.
Steps To Avoid deleting Photos
Click on "Settings".
Inside  "Settings", access  " Backup and Sync".
Enable option button "Create backup and sync".
Go to the "Device folder with backup" and enable those folders whose files you want to keep safe.
With this easy procedure in Google Photos, you will enable the application to make a backup copy of all the files in the folders you have selected.
Thus, Still, if you wrongly delete a photo again, you will understand that nothing occurs because you can simply recover it with the Google Photos backup.
Thanks for your support we will provide more tricks & tips for you. If you like our tricks, share these with your friends and join my Telegram Channel for more new tricks & tips.
Thanks for your support we will provide more tricks & tips for you. If you like our tricks, share these with your friends and join my Telegram Channel for more new tricks & tips.
Also Read Our New Trending Articles >>>>