Introduction: Get Text Books For Rent
If you are a student, you may know that the costs of new Text Books for rent can be a bit too much to handle. Renting a textbook is usually easier and cheaper than buying a new one and then trying to resell it afterward.         
Because of this reason the websites which are giving Text Books for rent are increasing day by day With this service, we can find all the books that we need and rent them during the course of your semester for an affordable price. In this way, you can get everything for rent and save your money.
Amazon Rentals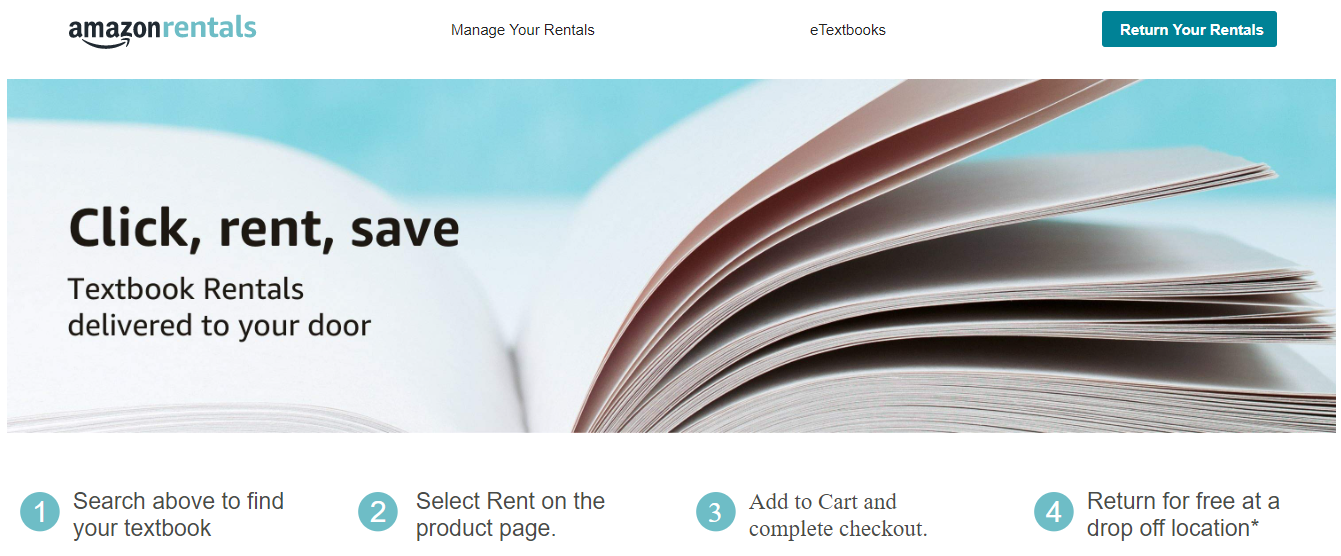 Amazon Provides the best service in providing Text Books for rent. It is one of the biggest and most popular e-commerce businesses in the world.
Renting a book with  Amazon is best than buying a new one. You can search for any book with its title or author's name or the ISBN code as you how you will search for products on Amazon account.
Now open the book which you are looking to take for rental, then go to that particular book details page, and then select the option called Rent instead of Buy used or New options and then add it to your rental cart.
Amazon's rental service offers various conditions, For Example,  the company experts will determine whether a book is in an acceptable rent condition (no water damage, torn pages, burns, odors, etc .)and once you receive it, you can apply for a refund anytime in the following 30 days.
In addition, you're obliged to pay the shipping cost, but if you are subscribed to the "Prime Student"  membership, the shipping is free.
Finally, if you own a kindle or a kindle app on your smart device, you can rent an e-book instead. This way, you don't pay the shipping fees and the costs are generally cheaper.
Your rental book will available on your Amazon account during the rental period which you selected and disappear after your selected period ends.                                                           
Campus Books Rentals
The Campus Books Rentals is providing more than 10 years of service ( TextBooks For Rent ) during which they've significantly grown their library, as well as their reputation. Which has one of the biggest book collections among all the online textbook rental services
However, you should know that the service is mainly dedicated to students. Therefore it has one of the best amazing for us.
For Example, from this website, the shipping is completely free, regardless that if you're receiving a book or sending it back to them. On the other hand, the book quality may be below your required standard, as the service allows writing and highlighting the book pages.
Some of the other interesting features include in this website are live support at all times and an extremely user-friendly interface. If You're unsure about certain regulations or if you have any other questions, you can easily find help. Additionally, the service offers a 3-week refund period.
To take any book for rent, simply search a particular book name in the search bar, click on it, and choose the rental period that you need. The period ranges between 55 and 130 days and you can choose your preferred dates.
Chegg ( Text Books For Rent )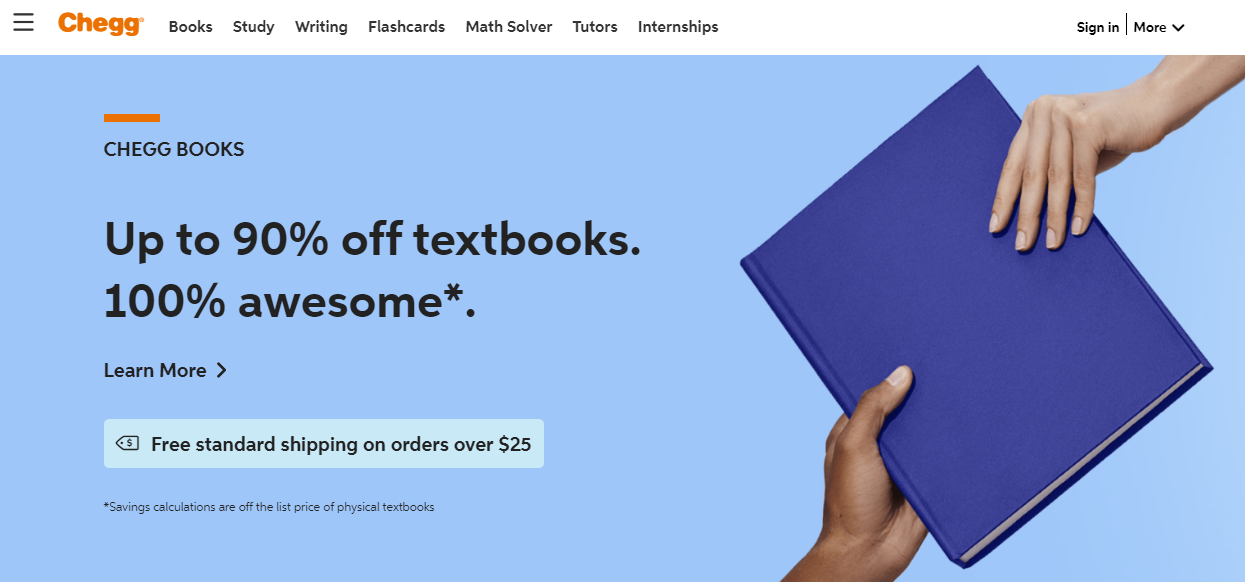 Website Link:

Chegg
The great thing all should know about Chegg is that it has a stricter rental policy than the other services from the list.
The textbooks are mostly available in a tidy shape since writing anything on rented books is prohibited and also you have to pay an extra charge if they found anything that you have written on the books.
On the other hand, highlighting the books isn't discouraged, but you should try to keep it at the minimum. In addition, you will get free access to the e-book version of your textbook for a week.
There are a few things to consider when it comes to delivering and returning books. You need to pay the shipping fee in both directions unless your cart is over a certain amount.
This depends on the period of the year since if you have any special offers are included, but the fee should normally be above $50.
When you return the book, you must return it with the prepaid shipping label that you've got upon receiving the package.
On top of this, the Chegg website offers a study program where you can answer questions and problems from more than 9,000 textbooks. You can even ask an online tutor for help at any time if you need help understanding the material.
Apart from that, the website offers lists of available internships and career paths that you can look up and maybe even apply for some.                                                    
Textbook Rush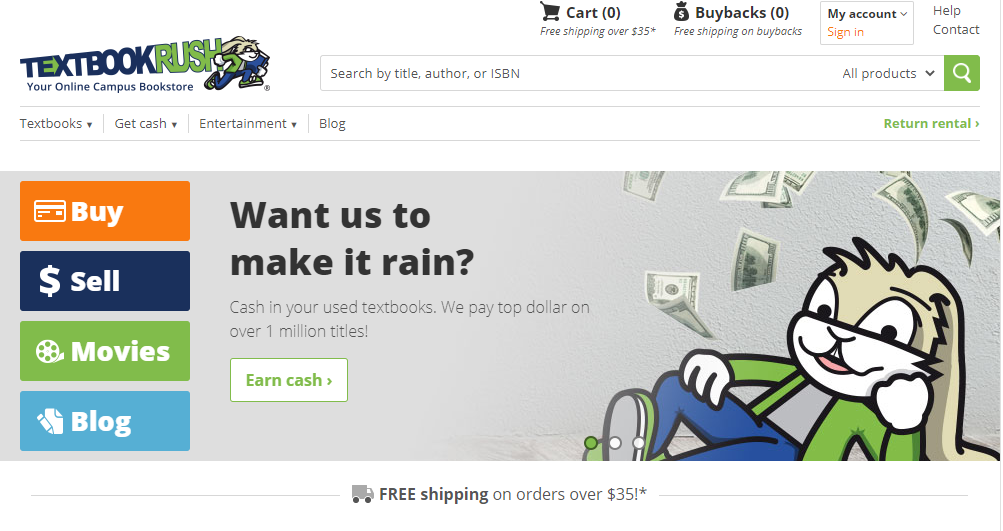 Textbook Rush was organized in 1994 and they started their online bookstore and online book rental service in 2002. The site has a huge directory of study books -over a million titles. It is interesting to note that they also offer movies and video game rentals, too. 
This service has several major upsides – It has a 30-day, no-questions-asked return policy if you're unsatisfied with your book. Moreover, if your order is above $35.
You'll be spared the shipping costs while the return is always free. When the time comes to return the book, you may extend the rental period for an additional 10 days for a small free.
The service is one of the easiest to use. The website's look and design layout make it easy to rent a book, prolong the rental period, and even buy a book. Yes, you can purchase a book that you've rented at any time.
On top of that, Textbook Rush also owns an application where you can sell your used books. So, not only can you rent a book, but you can also earn some money selling a book that you no longer need. 
Conclusion
In this post, we had analyzed some websites that are the best choice for Text Books rent, but you can search for the collection of newly growing sites.
As textbook rentals are becoming the best way to study cheaply and quickly, you can only predict that the number of these services will rapidly grow.
Finally Which site would you pick and why? why is renting a textbook your preferred site from the above sites? please write a comment below so that the others will also know which website is good for them.
Thanks for your support, we will provide more tricks & tips for you, if you like our tricks please share with your friends and join into my Telegram channel from below link for more interesting tricks & tips.
🥰 Also Read Trending Topics In This Website 🥰