Why This Trick?
How to use Gmail dot. Trick Read Here about "Gmail dot Trick".Here we are going to Explanation about How to use Gmail dot Trick. Some of You know may already be known about Gmail Dot Trick but most of you are unaware of this Gmail Dot Trick. Many of you may already know about this Gmail trick but many of my website visitors commented/asked me that they want to know about Gmail Dot Trick. We replied to them with the small information in the comment box but that was not enough. This trick is easy to learn, if you have the basic knowledge of this trick, then you can create unlimited email accounts from a single Email Id with the help of Gmail Dot Trick. This trick is getting popular and works in most of the websites available on google. But this email dot trick will not work on some websites like Twitter, Facebook, etc. Anyways the trick is very helpful in many aspects those who want to register with different websites they a must-know about this trick.
Introduction To Gmail dot Trick :
If we'd like to make important accounts with Email Address. Creating a new Email is a headache. For every account, you have to verify OTP and other details. What if you can create an unlimited email from a single Email Address. The use of the trick is to save your time from creating multiple email accounts. This Gmail Dot Trick will certainly save some time which you do not want to make multiple mail accounts. You will receive all the emails received for dot mail into your original email account so that you will get all mails at once place. Let's gets into our Gmail dot trick. I have added all the important steps for this Gmail Dot Trick. So just follow my steps and learn this awesome working trick where you can get unlimited Gmail accounts.
About Gmail :
We all know very well that Gmail is a free messaging service provided by Google. Nowadays there are many websites where we should use Gmail for registration, normally for every Gmail we need to provide the number for OTP verification.
What is Gmail Dot Trick?
Gmail Dot Trick is a simple trick that is used to create unlimited emails through a single Email. This Gmail Dot Trick is perfectly guided by several large websites. This is a must-know trick. The trick may be banned in the future so we do not guarantee that this trick will work all.
Let's take an example so that you can understand much better. If [email protected] is your original email Id and you want to use Gmail Dot Trick then you can enter Tech.[email protected].
But you will get all the mails for the original mail that you created with dot trick in your original account. Here the mails will be sent on [email protected].You can use the dot Multiple times and can create unlimited accounts using the Gmail dot trick. Do not worry here the guide does not end the trick is just now started. Let it reach its height.
Features of Gmail Dot Trick :
You can create unlimited accounts on a website.
No extra knowledge is required.
You can create as many accounts as long is your Email.
No need to sign up for new Gmail Accounts.
Free and easy to use.
Why do You Need Gmail Dot Trick :
Want to hide your original Email.
You no need to create a  new Email.
Some personal reasons.
Creating unlimited accounts.
Requirements For Gmail Dot Trick : 
Your Gmail Address.
A little bit of Brain.
How To Use Gmail Dot Trick : 
There are many sites on Google, in which you have to register with an email.
Sometimes when you try to register it shows an error that your mail is already registered.
For Example, your Email is [email protected]
Now you have to just add a dot anywhere in your mail before @gmail.com
So the resulted from an email from the dot trick 

T.

[email protected]
I am giving you 5 examples for this dot trick
7. Now Your new email IDs are ready that you can use it for any websites.
8. Now use them anywhere you want them.
How to Make unlimited dot Emails From Orginal Email :
Enter your email address.
Now hit Enter.
You will get your dot emails generated instantly.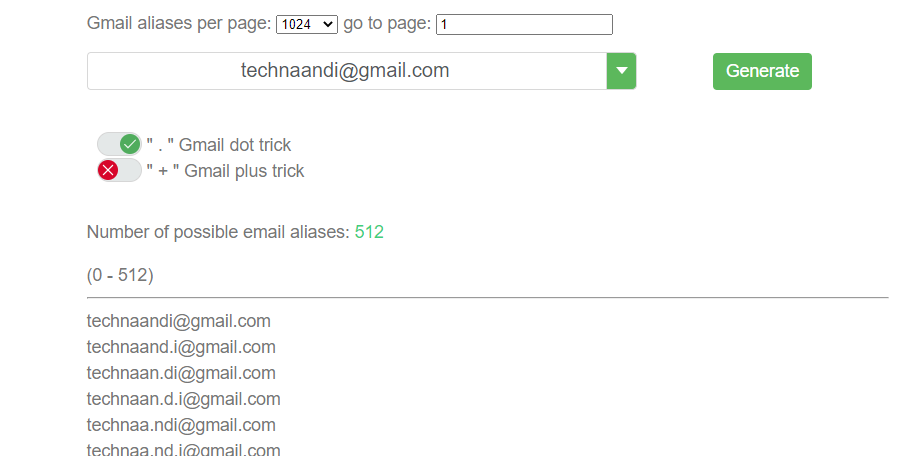 Gmail + (Plus) Trick :
This trick is as same as the dot trick. In this trick, you can also create an unlimited account. You have to use just + sign. We mentioned some of the examples below so that you can understand how it works clearly.
Gmail Googlemail Trick-Works With Almost All :
This trick will works on most of the websites available on Google so you do not have to worry about this. Most of the website accept this trick. See the example and understand it more clearly.
Conclusion : 
This is a full working trick and verified by us and many others. If you have any problem in any of the steps then feel free to comment. We will be always there to help you. You can directly comment without any hesitation. This trick fully safe and working properly. This is the best and easiest way to create multiple email accounts easily.
Thanks for your support, we will provide more tricks & tips for you, if you like our tricks please share with your friends and join into my Telegram Channel for more interesting tricks & tips.
Thanks for your support we will provide more tricks & tips for you. If you like our tricks, share these with your friends and join my Telegram Channel for more new tricks & tips.
Also Read Our New Trending Articles >>>>